Vegan Rasta Pasta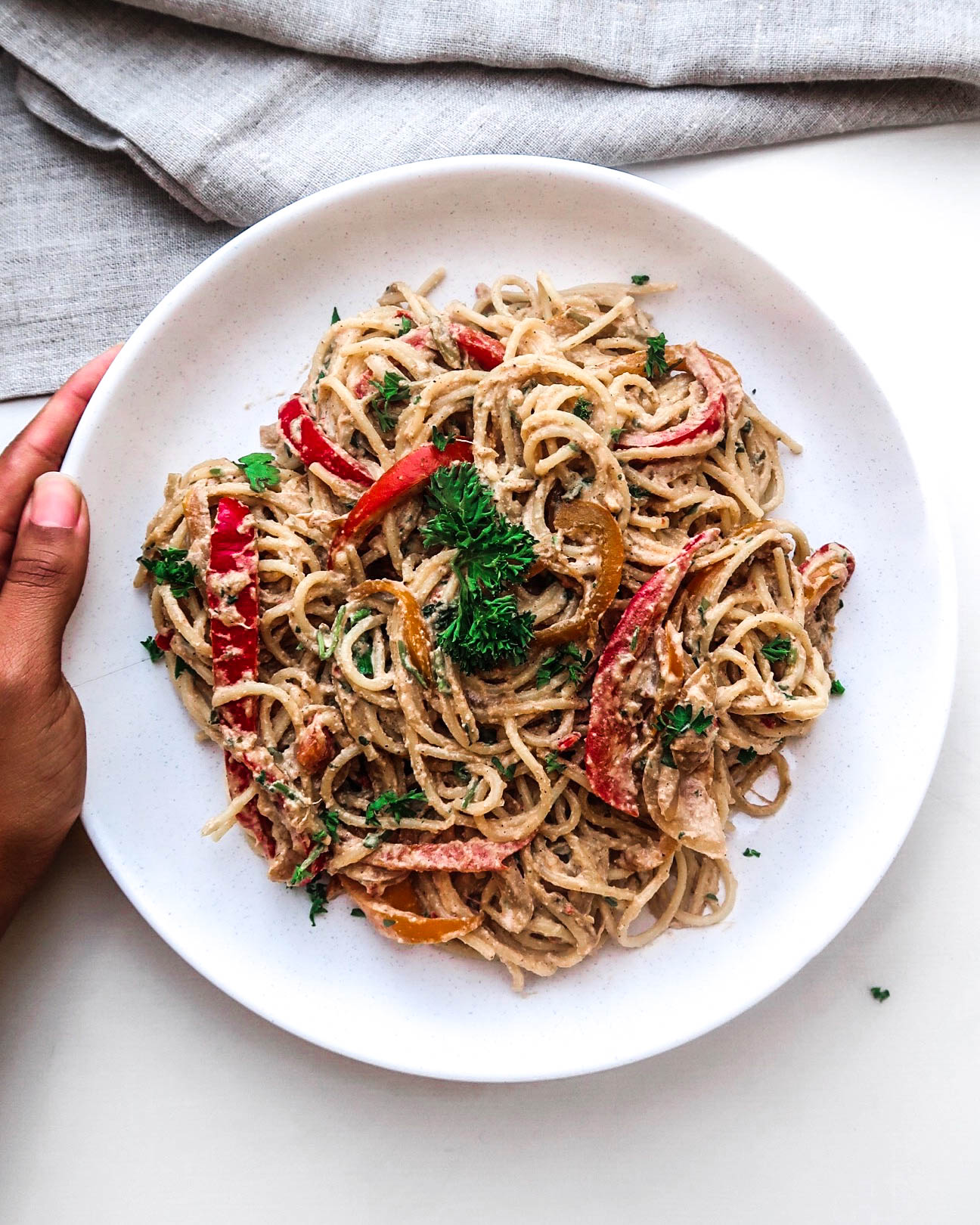 flavourful creamy and spicy pasta
Quick and easy take on a vegan Rasta Pasta! With hints of jerk seasonings and creamy cashews make for a super hearty dinner.
prep time: 5 mins
cook time: 15 mins
feeds: 2 portions
ingredients
1 spring onions
1/2 scotch bonnet
1 tbsp minced ginger
3 cloves garlic
1 tbsp tomato puree
1 tsp molasses
2 tbsp coconut aminos
1 tsp cinnamon
2 tsp allspice
1 red pepper
1 yellow pepper
1 tsp thyme
salt and pepper to taste
handful coriander
Creamy Sauce
1 cup of soak cashew nuts
1 cup of water
1/2 cup nutritional yeast
salt and pepper to taste
method
1. Finely dice or blend together the scotch bonnet, ginger, garlic and spring onions to create a fine marinade.
2. Add finely sliced red onions to a pan, molasses and sprinkle with salt and pepper to taste, saute with oil or water for 5 mins, then add the peppers.
3. Once the peppers and onions have cooked down a bit add allspice, thyme and cinnamon followed by the marinade and saute for 5 mins.
4. Add the cashews, water and nutritional yeast and a squeeze of lime to a food processor and blitz until you get a smooth cashew sauce.
5. To your pan, add tomato puree, coconut aminos, mix well then add your cashew sauce.
6. Mix in with cooked pasta and garnish with coriander to finish!